Your Community, Your Church
He is not here, he has risen
EASTER MORNING 2021- 10AM
Rev Jennie Ridley
St Andrew's Church, Gt Cornard.
ACTS 10:34-43 (Contemporary English Version)
34 Peter then said:  Now I am certain that God treats all people alike. 35 God is pleased with everyone who worships him and does right, no matter what nation they come from. 36 This is the same message that God gave to the people of Israel, when he sent Jesus Christ, the Lord of all, to offer peace to them.
37 You surely know what happened everywhere in Judea. It all began in Galilee after John had told everyone to be baptized. 38 God gave the Holy Spirit and power to Jesus from Nazareth. He was with Jesus, as he went around doing good and healing everyone who was under the power of the devil. 39 We all saw what Jesus did both in Israel and in the city of Jerusalem.
Jesus was put to death on a cross. 40 But three days later, God raised him to life and let him be seen. 41 Not everyone saw him. He was seen only by us, who ate and drank with him after he was raised from death. We were the ones God chose to tell others about him.
42 God told us to announce clearly to the people that Jesus is the one he has chosen to judge the living and the dead. 43 Every one of the prophets has said that all who have faith in Jesus will have their sins forgiven in his name.
GOSPEL: Mark 16:1-8
16 After the Sabbath, Mary Magdalene, Salome, and Mary the mother of James bought some spices to put on Jesus' body. 2 Very early on Sunday morning, just as the sun was coming up, they went to the tomb. 3 On their way, they were asking one another, "Who will roll the stone away from the entrance for us?" 4 But when they looked, they saw that the stone had already been rolled away. And it was a huge stone!
5 The women went into the tomb, and on the right side they saw a young man in a white robe sitting there. They were alarmed.
6 The man said, "Don't be alarmed! You are looking for Jesus from Nazareth, who was nailed to a cross. God has raised him to life, and he isn't here. You can see the place where they put his body. 7 Now go and tell his disciples, and especially Peter, that he will go ahead of you to Galilee. You will see him there, just as he told you."
8 So they went out and fled from the tomb, for terror and amazement had seized them; and they said nothing to anyone, for they were afraid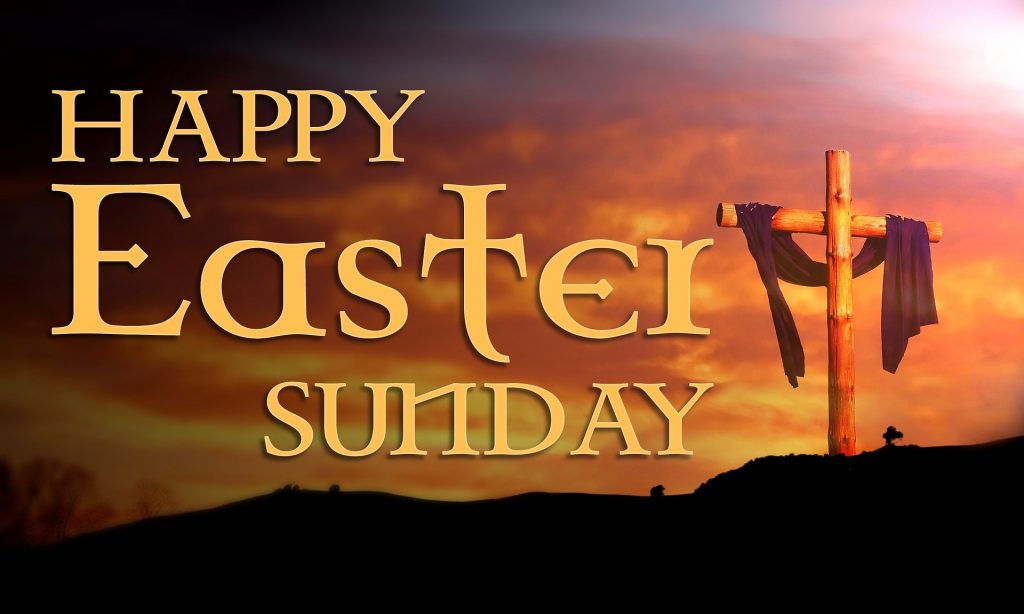 A morning like no other – and yet one that could so easily have passed by unnoticed.
The shameful, agonising death of Jesus was so public – and yet this most awesome event of his resurrection is revealed only through a small handful of people that morning.
There were those who'd have loved the event to pass-by unnoticed. Not least the Chief Priests and Pharisees. As the terrified guards return, the Chief Priests and Pharisees pay them to adopt a story of Christ's body being stolen – not risen. (Matthew 28:11-15)
Christ came for all people – but not everyone is willing to receive him. Sadly, our own stubbornness of heart; our own dismissal of what we cannot understand – or which appears to threaten our current lifestyle – can prevent us discovering the fullness of life God offers.
Maybe that's been us. Or maybe we live alongside those as yet unwilling to receive Christ.
Know this, the Father does not withdraw his love.
His Spirit is still active. And Christ's invitation remains open.
It's an invitation that was to spread across all nations – and all time. God was turning a new page where his glory and love would be revealed through the lives of ordinary people – beginning with those first followers.
Imagine how it must have been for them. They'd followed Jesus for three years. Witnessed amazing signs and wonders. Been inspired by his compassion and teaching. They'd come to believe he was the Messiah – the one of God come to save them and renew their lives in hope.
But now he was dead and hope had given-way to nightmare.
Many of us will know the heartache of bereavement. Many of us will know the loss that
accompanies it; not just the loss of a precious companion – but the loss of so many hopes
and dreams too. Its disorientating and crippling.
And so, the risen Christ comes personally to them in love and assurance.
The light was still dim as some of the women set off that morning. Grief not faith marks their footsteps. They expect only to anoint the dead body of their beloved Jesus. But the dawn is breaking. Light is dispelling the darkness in ways they cannot yet imagine.
Then come thoughts of that huge stone. Who will move it? But the stone has already been removed. And in that reality, we discover the Gospel of Christ. Jesus has removed all that bars our way from entering God's presence.
It's hard to imagine how it must have been for those women. Terror grips them as they gaze upon the scene. But there's bewilderment, confusion and wonder in the angel's words.
"Jesus is not here. He's alive – he has risen."
Later Mary Magdalene returns to the tomb.
Despite the angel's words – she doesn't understand. The turmoil raging within is interrupted by a man's question, "Woman why are you weeping?"
Hardly a strange question in a graveyard. But this man knows the angel's message
[Unspoken question, "why weep if he's alive!"]
Our head can sometimes take time to catch up with our heart – and visa-versa. Both find sharp alignment as this man speaks her name, "Mary"
Christ's voice of love cuts through her turmoil – Mary turns – and sees the risen Lord!
Later that same morning, the risen Christ draws alongside CLEOPAS and his companion – most
probably his wife, as they travel back to Emmaus. (Luke 24)
The couple were part of that wider group of followers. They'd stayed in Jerusalem and were still there as news arrives of the empty tomb.
So why leave; why go home now!?
Maybe it all got too crazy. They needed space to reflect. Mull things over. Get their head round this whir of events. And that's what they seem to be doing as a "stranger" joins them on the road.
Jesus isn't put off by their failure to recognise him.
Instead, he talks them through the prophecies and Scripture – showing how these find meaning in the man they'd known as Jesus. Finally, in the familiar action, as Jesus takes, blesses, breaks and shares the bread – the penny drops – they recognise him – and believe. Now they understand why their hearts had burned within them as 'the stranger'[Jesus] joined them along the road
PETER and JOHN hear the women's incredible story. Maybe they believed it. Maybe they didn't.
The feel compelled to see for themselves.
Peter, who'd sometimes got it so right about Jesus – and sometimes so wrong. Enters – and believes.
John, younger and fitter arrives first. But hesitates. Dare he enter? What if it's not true – Can he cope with the disappointment? What if it is true? What would that mean – for him – for his life? John hesitates – but enters – and believes.
Later that evening, the risen Christ stood amongst those gathered in the upper room. He greeted them saying, "Peace be with you" and breathed his Spirit upon them.
When all had seemed lost. When despair and fear hung over them like a black shadow and life lay in
tatters … they [and we] discover – God is not absent. God has not abandoned us as we might have imagined but has given the fullness of
himself to us – so that we might receive the fullness of life in him. And he is already on the road coming to meet us, breathe his life in us and lead us forwards.
In Christ, nothing at all, in life or death, can separate us from the love of God.
In Christ there is no condemnation. Our burden is lifted. Our life renewed. Our eternal home with Christ assured.
This is the Gospel that changed the lives of those first followers. Each in their own way, saw and believed – Jesus was more than just a friend, more than just a great teacher, more than just a man of deep compassion – he was their Lord and their God.
There was much they still didn't understand.
As the risen Christ met with them – and ate with them that day – they no doubt longed for life to go back to how it had been in the "good old days" of his ministry. But a new chapter was unfolding.
One which would become clearer in the outpouring of the Spirit. But this they knew – Jesus is alive! And they would one day join him in glory.
This is the hope that inspired them to speak and live for Jesus – and upheld them during times of uncertainty, suffering, or persecution.
Aspects of their stories may resonate with our own. We may each be different. We might come to faith in slightly different ways.
But, by his Spirit, it is the same risen Christ who comes to us, in the same fullness of love and gift of life.
The same risen Christ…
who meets us in our brokenness;
meets us where life feels bewildering and unsettling
walks alongside us in our confusion and questioning
and who gently reveals his presence to us – in word – action – symbol, (sacrament) and in the witness of others
to lead us forwards.
It seems poignant to me that Easter falls as lockdown eases – as the light out of this pandemic begins to dawn.
But life has changed. Even now much uncertainty lies ahead. But the wonder – the Good News of that first Easter morning remains the same.
When the dawn was breaking God revealed the fullness of his love and gift of life.
As we 'see' that morning through the witness of those first followers – may we also make that journey of faith from darkness to light, despair to hope, disillusionment to re-framed purpose.
Faith is very much the gift of God.
And so, I pray, may God give to you – or renew in you today, his gift of faith; that with courage, joy and wonder, we may each draw near and declare, with our lips and our lives,
"Christ is risen! Hallelujah!"